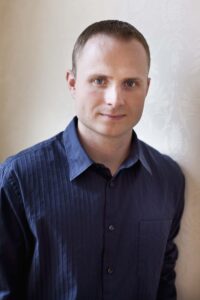 Michael Koryta (pronounced Ko-ree-ta) is the New York Times-bestselling author of 12 suspense novels. His work has been praised by Stephen King, Michael Connelly, Lee Child, Dean Koontz, James Patterson, Dennis Lehane, Daniel Woodrell, Ron Rash, and Scott Smith among many others, and has been translated into more than 20 languages. His books have won or been nominated for the Los Angeles Times Book Prize, Edgar® Award, Shamus Award, Barry Award, Quill Award, International Thriller Writers Award, and the Golden Dagger. They've been selected as "best books of the year" by publications as diverse as the New York Times, Wall Street Journal, Amazon.com, O the Oprah Magazine, Entertainment Weekly, People, Reader's Digest, iBooks, and Kirkus Reviews.
His recent thriller Rise the Dark (the second in the Markus Novak series) was a national bestseller and was named to several Best of 2016 lists including The New York Times, Kirkus Reviews, and the South Florida Sun-Sentinel.
Those Who Wish Me Dead, his 2014 stand-alone novel, was named the summer's best thriller by both Amazon and Entertainment Weekly, and was selected as one of the year's best books by more than 10 publications. The audio version was also honored as a best of the year, the second time that Robert Petkoff's narration of Michael's work has earned such an honor. The novel is currently being adapted as a major motion picture by 20th Century Fox.
Michael's previous work ranges from a trio of supernatural novels—So Cold the River, The Cypress House, and The Ridge, which were all named New York Times notable books of the year and earned starred reviews from Publishers Weekly—to stand-alone crime novels such as The Prophet (A New York Times bestseller) and Envy the Night (selected as a Reader's Digest condensed book), to a series of award-winning novels featuring private investigator Lincoln Perry—Tonight I Said Goodbye, Sorrow's Anthem, A Welcome Grave, and The Silent Hour.
Michael has written for the screen in both feature film and television, writing scripts for Fox, Universal, and Amazon Studios.
Before turning to writing full-time, Michael worked as a private investigator, a newspaper reporter, and taught at the Indiana University School of Journalism. He began working for a private investigator as an intern while in high school, turned it into his day job in the early stages of his writing career. As a journalist, he won numerous awards from the Society of Professional Journalists.
Michael's first novel, the Edgar-nominated Tonight I Said Goodbye was accepted for publication when he was 20 years old. He wrote his first two published novels before graduating from college, and was published in nearly 10 languages before he fulfilled the "writing requirement" classes required for his diploma.
Michael was raised in Bloomington, Indiana, where he graduated from Indiana University with a bachelor's degree in criminal justice. In 2008, he was honored as a "distinguished young alumni" by Indiana University, and in 2010 he was named "distinguished alumni' by the criminal justice department.
Hiking, camping, boating, and fishing are all likely to occupy his free time when he's not working on a new book. Some of his favorite spots in the world are the Beartooth Mountains of Montana, which is the setting of Those Who Wish Me Dead and Rise the Dark; the flowages of the Northwoods in Wisconsin, St. Petersburg, FL, where he lived for 8 years, and the Maine midcoast, where lives part-time.
Michael and his wife, Christine, divide their time between Bloomington and Camden, Maine with a cranky cat named Marlowe, an emotionally disturbed cat named John Pryor (named after the gravestone on which he was found as an abandoned kitten), and a dog of unknown heritage named Lola.
Research has always been a driving passion of Michael's approach, leading him from big-cat rescues with the Exotic Feline Rescue Center to wilderness survival schools and caving trips. His can be followed via his blog, Twitter (@mjkoryta), his Facebook page, and his Hachette Book Group author page.
SaveSave