This is a book recommendation for anyone who is a Hemingway fan or who has ever had the good fortune to pass through Cooke City and Silver Gate, Montana. (Or Sheridan and Cody, Wyoming, but I always prefer to give Montana the credit.) I had the privilege of getting to know the author, Chris Warren, a bit over the years, and I have a sense of just how much research has gone into this book, which shows the outsized influence that the area had on Hemingway's life and writing.
Until meeting Chris, I had no knowledge of Hemingway's time in the region, but I can relate to the outsized influence the place has had in my own work. Since my first visit through the Beartooth Mountains and Cooke City, I've written more about that area than any other. THOSE WHO WISH ME DEAD is set entirely in the region, and most of RISE THE DARK takes place there, as do the short stories ON THE DARK SIDE OF SUNLIGHT BASIN and THE LAST HONEST HORSE THIEF. While LAST WORDS is set in Indiana, the backstory that dominates the novel is of Markus Novak's childhood in and around Cooke City. When I had the chance to throw out the first pitch at a Yankees game a few years back, I wore a Cooke City General Store cap for the occasion. Hemingway fans can have Key West and the six-toed cats; I vote for Cooke City.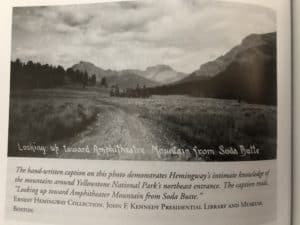 Chris has worked diligently to research and share this aspect of Hemingway's life, and next year the international Hemingway Society will meet in Cooke City and Sheridan, Wyoming – their last meeting was in Paris. I'm thrilled to see that Chris has had such success in spreading the word, and his book is a quick, informative read and a beautiful collection of photographs. One photo in particular stopped me short: a view of Amphitheater Mountain looking up the Soda Butte. I've done a lot of daydreaming about various books during walks toward Amphitheater up the Soda Butte, and when the film version of THOSE WHO WISH ME DEAD arrives, astute viewers will note the name of the survival school.
I'd also like to take this opportunity to apologize for all of the fictional carnage I've brought to the region over the years.
Click here for the ERNEST HEMINGWAY IN THE YELLOWSTONE HIGH COUNTRY page at Riverbend Publishing