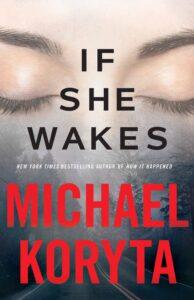 IF SHE WAKES by Michael Koryta. Pre-order now your copy today:
Amazon: bit.ly/IfSheWakes_amazon
B&N: bit.ly/IfSheWakes_BN
Tara Beckley is a college senior assigned to chaperone a visiting engineer to a conference. It's supposed to be a simple task in a safe place. But once on the road she is the victim of a brutal accident that kills the engineer and leaves Tara in a vegetative state — or, at least, so her doctors think. Really, she is the prisoner of locked-in syndrome, fully alert, but unable to move a muscle. Trapped in her body, she discovers that someone powerful wants her dead — but why? And what can she do, lying in a hospital bed, to stop them?
Meanwhile, Abby Kaplan, an insurance investigator, is assigned to Tara's case. A former stunt driver, Abby has returned to Maine after a disaster in Hollywood left a beloved actor dead and her own reputation — and nerves — shattered. She has nothing left to give to the case, but she can tell there's more to the accident than meets the eye. When she starts asking questions, things spin out of control fast, leaving Abby on the run, and an enigmatic young hit man on her heels. His name is Dax Blackwell, and for him, killing isn't just the family business, but a master craft.