Article from  Shelf Awareness June 28, 2016: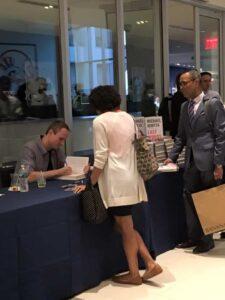 In an unusual book-and-baseball promotion, the first 10,000 fans 18 years and older at tonight's game between the New York Yankees and the Texas Rangers (go, Yanks!) at Yankee Stadium in the Bronx, N.Y., will receive a free e-book edition of The Prophet by Michael Koryta, who will also throw out the ceremonial first pitch. The giveaway is part
of the Yankees' New York Times First Pitch Series and is sponsored by Little, Brown and Hachette Book Group, which calls this "the first e-book giveaway ever at a major sporting event."
Fans will receive cards with a promotion code. On Bookshout, the publisher's redemption partner, fans can enter the promotion code and receive the e-book, which can be read on a desktop, mobile phone or tablet.
"Reading today takes place in so many places–at home before bed but also in line at the grocery store. Why not during the seventh inning stretch?" said Heather Fain, senior v-p, marketing strategy, Hachette Book Group. "Hachette is always looking for new ways to engage readers, introduce them to writers they haven't tried, and make it easy to always have a great book on hand. Working with the Yankees allows us to challenge the notion of what is and isn't the 'right' time to read."