In the acknowledgements to THOSE WHO WISH ME DEAD, I promised to share the books about survival that informed/inspired my novel. I promptly forgot to do so. A year late, but just in time for the paperback release (July 14!) here we go.
Along with a favorite quote of the lot, from James Alexander Thom's "Follow the River." This is Will Ingles thinking about why his 23-year-old wife, Mary, just returned from a 1,000-mile walk through a wilderness at that time still unseen by anyone by the natives, scares him now:
He lay in the bed now feeling her arm-bones across his chest and thought about the cold and the hunger and the rocks and rivers and mountains she had seen that nobody else had ever seen, and he realized that he could not have done what she had done.
Informative:
Deep Survival, by Laurence Gonzalez
The Survivor's Club, by Ben Sherwood
The Unthinkable, by Amanda Ripley
Finding You Way Without Map or Compass, by Harold Gatty
Lost Person Behavior, by Robert Koester
6, The Art of Keeping Your Ass Alive, by Cody Lundin
Air Force Survival Handbook
SAS Survival Handbook, by John Wiseman
How To Stay Alive In The Woods, by Bradford Angier
Outdoor Survival Skills, by Larry Dean Olson
Tom Brown's Field Guide, by Tom Brown
Mistakes Were Made (But Not By Me): Why We Justify Foolish Beliefs, Bad Decisions, and Hurtful Acts, by Carroll Tavris
Why We Make Mistakes, by Joseph T. Hallinan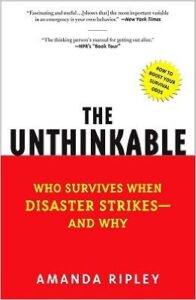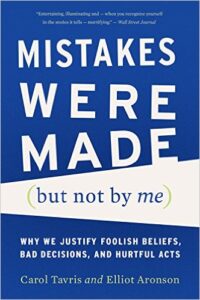 Inspirational:
Follow the River, by James Alexander Thom
Adrift, by Steve Callahan
In the Heart of the Sea, by Nathaniel Philbrick
Into Thin Air, by John Krakauer
The Lost City of Z, by David Grann
In Harm's Way, by Doug Stanton
Endurance, by Alfred Lansing
Minus 148 Degrees, by Art Davidson
Young Men and Fire, by Norman Maclean
Fire Season, by Philip Connors