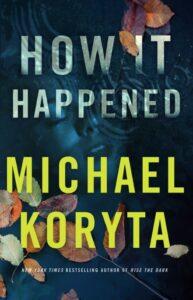 "Michael Koryta is one hell of a writer, and HOW IT HAPPENED is one hell of a murder mystery. 
It's a tribute to Koryta's craftsmanship and skill that the reader can't put the book down until the last layer of the onion is peeled away to reveal the truth at the core of this gripping tale. Koryta is not only a very good writer, he's also a very smart writer who knows his characters, and understands that character is destiny.
A remarkable achievement that rises high above the genre."
—New York Times bestseller Nelson DeMille on HOW IT HAPPENED; available now for pre-order and in-stores May 15.
Amazon: http://amzn.to/2sTQzd7
B&N: http://bit.ly/2sU5pQY